​Background Information

Most state governments refused to abide by them and continue to heavily discriminate against minority groups because most white Americans believe that the minority groups have to know their place. It wasn't until the Civil Rights Act of 1964 that changed the stance of how the United States viewed minority groups for good. The ideas of the Civil Rights Act of 1964 was first devised by President John F. Kennedy; however, he was assassinated before he was able to present it to the Senate ("Civil"). Therefore, President Lyndon B. Johnson took over Kennedy's position, finished drafting the bill, and present it to the Senate ("Civil"). At first, southern Democrats and other senators staged a filibuster in order to delay the passing of the bill; however, the Senate managed to pass the bill with the approval of two-thirds of the Senate ("Civil"). The Civil Rights Act of 1964 prohibits discrimination and segregation based on sex, race, and religion in public areas ("Civil"). The passing of the act became a major victory for the civil rights movement because it will eventually bring upon the passing of the Voting Rights Act of 1965 and many other civil rights acts as well ("Civil").
​​
---
---
The Impact
and Legacy

​ Despite the recent racial tension between Americans and minority groups, the United States government had to do what's necessary to achieve equality even when most Americans disapprove of allowing minorities to practice their civil rights freely. During the mid-20th century, there are some white Americans who refused to offer services to minority groups because they still believe that these minority groups are inferior. Injustices such as discrimination in public areas and housing often occur, especially in the South. However, the United States federal government thought otherwise. President Lyndon B. Johnson heard the cries of the minority groups screaming for justice. In the 1960s, President Lyndon B. Johnson signed a series of Civil Rights Acts that prohibit discrimination in housing, voting, and public places. The legacy of the Civil Rights Acts made white Americans accept minority groups as one of their own. In today's society, almost everyone has accepted minority groups and there has been few complaints in regards to discrimination and racism.

---
​Cause and Effect

---
Powered by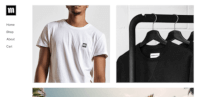 Create your own unique website with customizable templates.