Introduction to Racism in the United States

Riots, hate, injustice, and discrimination: they seem to be everywhere in this world, especially in the United States, which is known as the land of the free. For over two hundred years, the United States has practiced first the use of slavery and then discrimination against minority groups. It was not until half a century ago the United States government felt it was wrong to discriminate and limit the rights of minority groups, but even so, the civil rights legislations were not being enforced by state governments. It took years of protest and outrage from minority groups to sway the views of white Americans and state/federal government(s). Although the United States government did its best to limit racial tension between many racial groups by passing and enforcing many civil rights legislations, there are some Americans and minority groups who refuse to leave the racial tensions in the past and still continue to believe that it is not enough to make everyone equal. Therefore, the legacy of not only today's racial events, but also the past racial tensions has significantly changed the racial views of most Americans and minority groups because there are some remnants of the past racial events that still affect the racial views of all Americans today.
​
---
Powered by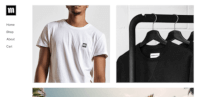 Create your own unique website with customizable templates.